Home / Blog /
7 Proven Ways to Increase Staff Productivity Without Breaking the Bank
Most people spend about a third of their lives working (some 90,360 hours over the course of a typical lifetime) and yet employees are chronically disengaged worldwide.
A 2013 Gallup study found that only
23% of New Zealand employees were engaged at work, 62% were not engaged, and an alarming 15% were 'actively disengaged'.
That means for every motivated worker actively engaged in producing value for their organisation, there were three other workers just watching the clock.
"Workplaces all over New Zealand can't get enough of our coffee."
Talk to us about our range of workplace coffee machines & multiple rental options.
enquire now
This is bad for organisations, bad for employees, and bad for society as a whole. That's why it's vital we do everything possible to increase employee engagement, improve staff productivity in the workplace, and generally ramp up everyone's enjoyment.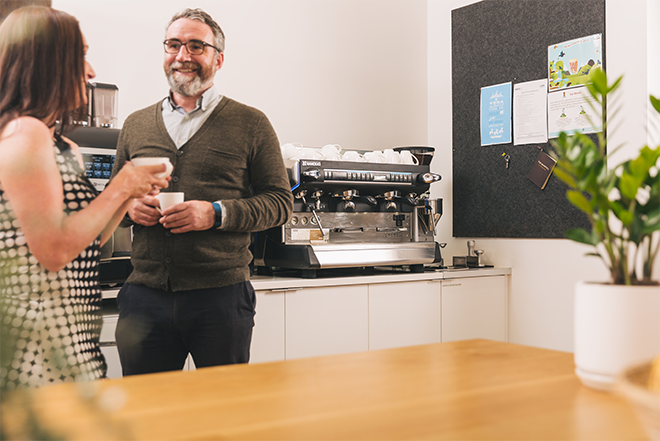 So here are 7 proven ways to start achieving these noble goals without breaking the bank:
1. Employee survey software
Why not start by asking your people what they really think about their work, their office space, their co-workers, and a whole host of other important work-related matters? Employee survey software enables employees to provide anonymous feedback directly to senior management about what they like and what really jerks their chain.
Applications like SurveyMonkey, Officevibe, and Clarity Wave send out mini surveys to all your employees. They only take a few minutes to complete and the resulting data tells senior management what's really going on inside the organisation – and even suggests possible solutions.
It's an effective way to amp up employee engagement and productivity because it helps drive real change a lot faster than the traditional six-monthly reviews. And because it lets you see what's going on in real time, you can nip problems in the bud and fine-tune the direction of whole teams of people, boosting their morale and retention.
2. Celebrate everything
Acknowledge merit, recognise victories big and small, celebrate birthdays, weddings, babies, new qualifications, buying a house – whatever important stuff is going on in your employee's lives make it your business to know about it and hang a lantern on it.
Why? Because that's what people who care about people do. If you want your employees to feel valued, if you want to create a real team spirit, this is a great way to do just that. All it takes is a small gift, a card, tickets to a show, or a special morning tea to make your employees feel like part of a larger family. And that's a great way to build loyalty and staff productivity.
Recognition doesn't have to be connected with achievement – a few words of encouragement for a staff member who is trying hard but hasn't quite succeeded may be all that's required to get them over the hump. Many organisations claim that their people are their biggest asset but words are cheap: your staff are much more likely to believe you if you back your words with actions.
"Workplaces all over New Zealand can't get enough of our coffee."
Talk to us about our range of workplace coffee machines & multiple rental options.
enquire now
3. Workplace design
Open-plan workspaces filled with workstations have become the default solution for most offices in the hopes that they will foster collaboration and flatten hierarchies. And while that has worked to some extent, the resulting noise and distraction is the enemy of focused attention. Not every business has the luxury of being able to redesign its floor plan or spend pots of cash on fancy interior design consultants, but there are some simple things you can do to cater for different work styles within the same space.
Installing a few glass walls can help people maintain a sense of connection and activity while cutting down on noise. You can create 'nooks' with funky furniture for private conversations near common areas and kitchens – so people can bump into each other, start talking, and retire to a nook for more in-depth discussion.
Private areas for phone calls, Skype meetings, and teleconferences don't have to be separate rooms: a couple of high-backed chairs facing a window may be all that's required. Take a poll of your people, observe what activities they're doing day-to-day, and think creatively about how your office could be better organised to help them be more productive and happier.
4. Corporate massage
Just giving your people a 15-minute expert massage at their desks can reduce their stress by a massive 85%, improve their quality of sleep, reduce headaches by 48%, lower blood pressure, reduce RSI, and increase mental clarity, according to incorporatemassage. The results are increased staff productivity, employee retention, and office morale, and reduced health problems. If you want to engage and delight your employees, and make them feel appreciated, this is a truly cost-effective way to do it.
5. Flexible working
Enabling employees more flexibility about where and when they work has been proven to positively affect employee engagement, motivation, staff productivity and satisfaction, according to the WorldatWork Survey on Workplace Flexibility 2013. Teleworking, flex time, part-time schedules, compressed workweeks, job sharing – there are many options and a flood of stats that say the more access people have to flexible work practices, the more engaged and productive they become. Of course, a corresponding shift in your company culture may be harder to implement, as managers with entrenched views may equate flexibility with a lack of commitment.
6. Fun outings
You know what they say: all work and no play makes Jack a dull boy. The same could be said of teams of people. Everybody needs a bit of fun and relaxation – and if you make it possible for your people to do something together outside of work, it's almost guaranteed to build stronger ties between workmates, greater cohesion within teams, and a happier, more motivated workforce. A barbeque, a cycle trek to a winery, or getting some of that pent-up aggression out of their system at a paintball park could be all it takes.
7. A decent coffee machine
Water cooler conversations are OK but everyone knows where the real action is: over by the awesome new workplace coffee machine. Don't underestimate the goodwill and staff productivity you can build up simply by saving them the cost of their daily coffee fix. Plus you'll be saving a ton of downtime that they currently spend standing in line at the local café. You'll reap the benefits of a more alert, more motivated, and more productive workforce.
If you're still not convinced, check out our guide to supporting wellbeing in the workplace.
Please feel free to share this article with your managerial team. And check out more information about our range of coffee machines and supplies.

Setup your company for success today